Missing the Great Qazi
Maulana Mujahidul Islam Qazi's sagacity and wisdom made him popular among all sections of the Muslims
who looked upon him as a guide and leader at all times
--------------------------------------------------------------------------------

By Andalib Akhter for Islamic Voice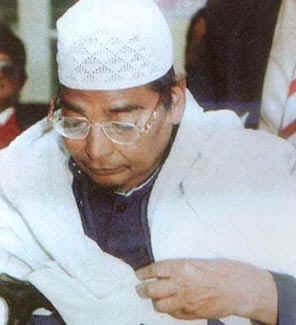 Maulana Mujahidul Islam Qasmi
With the demise of Qazi Mujahid-ul-Islam Qasmi, the president of All India Muslim Personal Law Board (AIMPLB), the Islamic world and particularly the Indian Muslims have lost one of their most revered and pious religious leader. After the death of Ali Miyan Nadvi few years back, Maulana Qazi had become the torch bearer for all section of Indian Muslims and guiding them to the path shown by Islam. The communal violence, the issue of Babri Masjid, the concerted effort to associate Islam with terrorism and to brand Muslims as terrorists disturbed him. Whenever this writer met him, even in his illness he found him concerned about the community.

Once he said, "the real Islam is not what we see in our daily life of the Muslims from east to west. The real Islam is based on the teachings of the Quran and the sayings of Prophet Muhammad (Pbuh) that is preserved with us. The enemies of Islam through the network of the media have used this as a tool to malign Islam. They presumed that Islam is backward and retrograde to the latest knowledge. Contrary to this, Islam is a progressive religion and not averse to science and technology. Education is an essence of Islam." His sagacity and wisdom have made him popular among all sections of Muslims.

The AIMPLB which is a conglomerate of all sections of the Indian Muslims looked to him as a guiding force and accepted his suggestions in letter and in spirit. Recently when the VHP fixed March 15 as the deadline for the construction of Ram Mandir, and Shankarachariya offered his service for negotiated settlement of the issue, Qazi saheb sent a delegation to meet the Hindu seer. But when he found nothing reasonable in the offer he asked his team not to go ahead with further talks. Qazi who is survived by his wife was suffering from blood cancer for the last few years. Born on October 9, 1936 in Darbhanga district of Bihar, he acquired education at Darul-uloom, Deoband. His father, Maulana Abdul Ahad Qasim was also a renowned Islamic scholar of his time. After completing his education, he started teaching at Jamia Rahmani at Mungher and at the same time, got associated with Emarat-e-Sharia Patna.

For 40 years, he was the chief Qazi of the Daraul Qaza of Emarat-e-Shariya and solved many family disputes amicably. His religious wisdom made him famous all over the country and across the world. He visited several Islamic countries and participated in seminars on Islam. His papers and books were appreciated in many Muslim countries. He also prepared the 'Muslim personal law' for South Africa. He wrote nearly 40 books in Urdu and Arabic. His work, 'Qaza aur Fiqah' is regarded as one of the authentic books in the Islamic world. The 'Sanwan-ul-Qaza' ( in Arabic with four volumes) 'Alwaqf Aur Islami Adalat' (Urdu) are his other famous works.

Maulana Qazi was also associated with several socio-religious organisations. He was the secretary general of Fiqah Academy and All India Milli Council. He was associated with AIMPLB since its inception in 1972. After the death of renowned Islamic scholar Maulana Abul Hasan Ali Miyan Nadvi, he was elected as its president. His Fiqah Academy translated the 40 volumes of 'Fiqahi Encyclopedia' in Urdu. Maulana Qazi is buried at his native village in Darbhanga district of Bihar.