Islamic Library launched with 255 books, from Darus Salam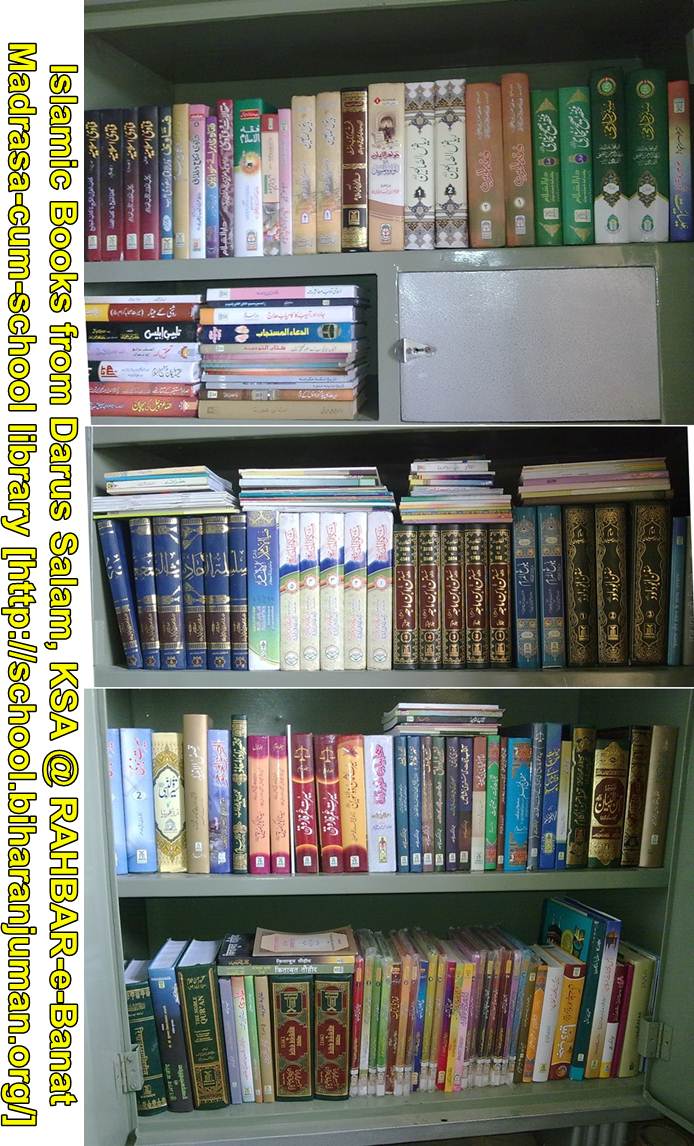 2 sets of

Uniform and 1 Sweater provided, every year, to all girl students of RAHBAR-e-Banat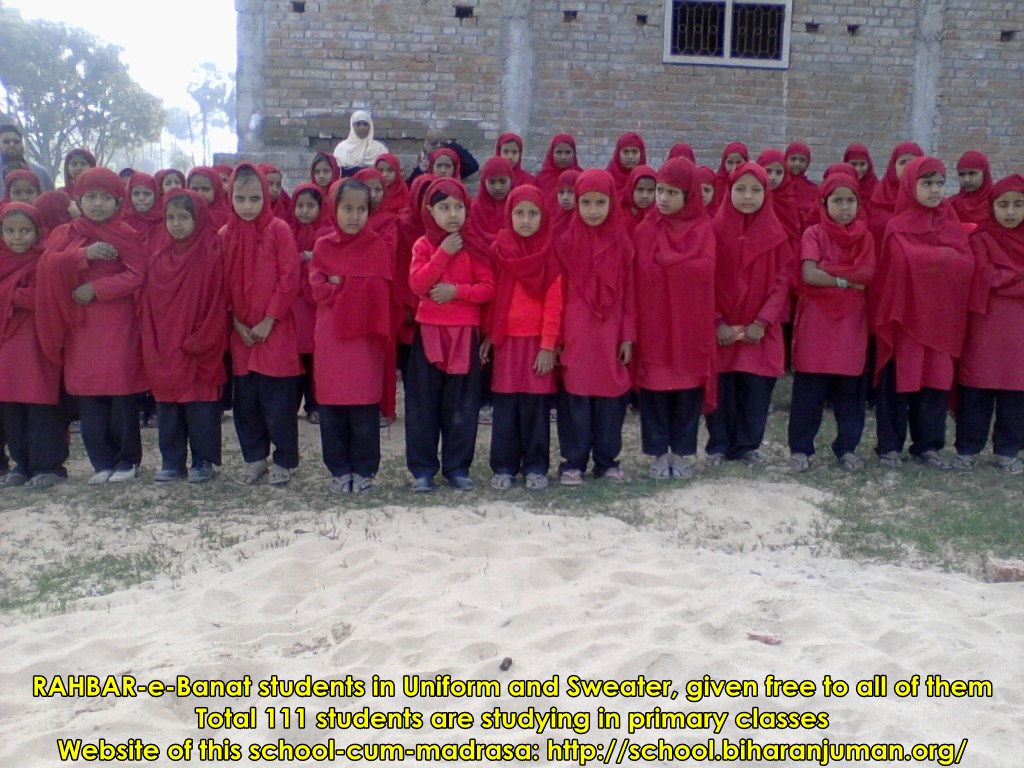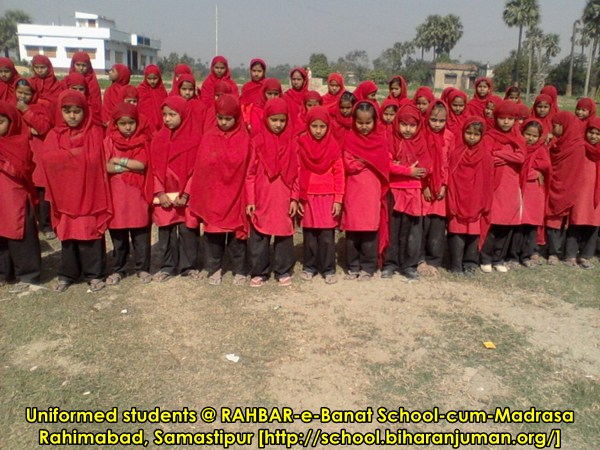 Age-wise breakdown of students, in November 2011

13-14 yrs
11
11-12 yrs
23
9-10 yrs
32
7-8 yrs
22
5-6 yrs
23
Total
111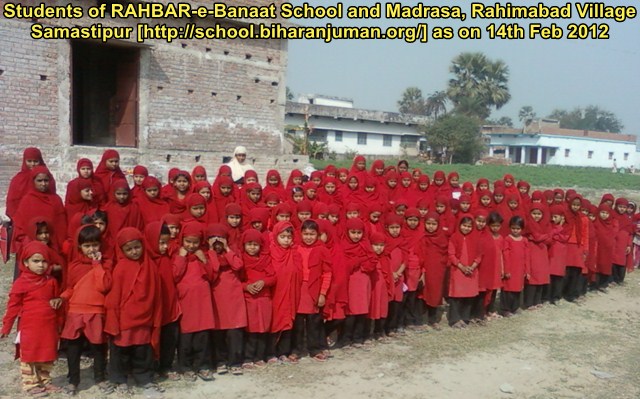 The madrasa, which started in a thatched temporary facility in 2009, has established a new trend in the region by providing free uniforms and sweaters to all of its students, starting 2011-12 session. Insha-Allah, the students would receive the free uniforms and sweaters every year. Primary classes started, here, in the year 2009, and classes are being extended as the students move forward. A campaign was launched in September 2011 to raise funds for uniforms and sweaters.
Following is the details of donations received and expenses incurred:
Donations received: Rs. 1,00,521/=
Total 111 (One Hundred Eleven) students received one set each of uniform and sweater in session 2011-12
; one more set of uniform to be given in March 2012, insha-Allah.
| | |
| --- | --- |
| Item Description | For 111 students |
| Uniform (Salwar Suit + Dupatta) | Rs. 39,238 |
| Sweater @ Rs. 300 per pc | Rs. 33,100 |
| Tailor's charges @ Rs. 42 per uniform | Rs. 4,662 |
| Total | Rs. 77,000 |

Amount received from RAHBAR: Rs. 100,000/=
Amount spent

:
Rs.
77,000/=
Amount remaining in RAHBAR-e-Banat account

:
Rs.
23,000/=. This amount will be used for providing another set of uniform + scarf to all students, insha-Allah.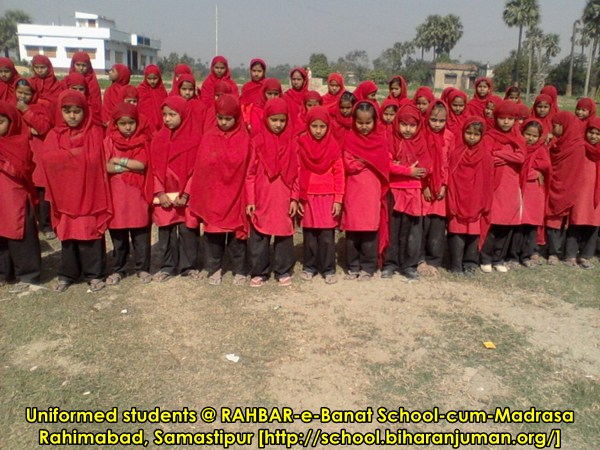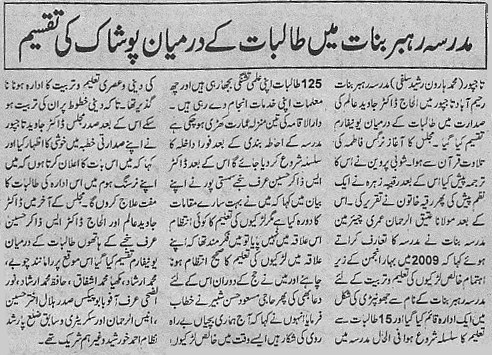 Casting of 3rd Storey Roof (2nd floor's roof) on 29th October 2011
Donations: all kinds of donations are acceptable
Willing to donate for this noble cause? Write to school@biharanjuman.org to commit your donation
Read this article, please: Letter and Spirit of Zakat (Zakah)
The students in this madarsa will be from poor families, most of whom are not going to any schools or madrasas, at all. Therefore, zakah funds may be used to impart literacy to them. Yateem girls will be accommodated in a hostel which is the first buidling being built [structure of 2 floors are ready, thus 16 rooms cab be used once finishing work is completed]. Hostel is planned to become functional in October 2011, insha-Allah.
You may donate (from any funds at your disposal) for

:

Regular (monthly, quarterly, annual) contribution:

(a) sponsoring a teaching staff for the madarsa: Rs. 4,000 to 6,000 per month,

(b) sponsoring a non-teaching staff (matron, peon, muhassil, etc.): Rs. 3,000 to 4,000 per month

(c) sponsor a student's expenses (non-resident): Rs. 200 per month
(d) sponsor a student's expenses (resident): Rs. 300 per month, without food
(e) sponsor a student's expenses (resident): Rs. 800 per month, with food

Sponsor contruction cost for eisal-e-sawab and sadaqa-e-jaariya:


(a) construction of class-rooms (one classroom: Rs. 4 lakhs): total number of classrooms planned = 15 (architectural dwg @

http://bit.ly/eFUnHI

)

(b) Construction of hostel (one hostel room: Rs. 2 lakhs): total number of rooms planned = 24 (architectural dwg @

http://bit.ly/eFUnHI

)

(c) Construction of a library-cum-reading room @ Rs. 4 lakhs + furniture @ Rs. 1 lakh

(d) Construction of the office room @ Rs. 3 lakhs + office furniture @ Rs. 50,000/=

(e) doors and windows per hostel room @ Rs. 10,000/= (1 door + 1 window), total 24 rooms

(f) doors and windows per Class room @ Rs. 35,000/= (1 door + 4 to 7 windows), total 15 rooms

(g) hand pump for drinking water, Rs. 10,000/= (with platform), near hostel building

(h) 2 Overhead water-tanks + 1 electric pump + water-supply work for hostel building, Rs. 50,000/=

(i) Sanitary fittings for bathrooms of hostel building: Rs. 60,000/=

(j) Electric bulbs + fans for 24 hostel rooms: Rs. 48,000/= or/ and for classroom building: Rs. 192,000/=

(k) Electrical wiring works for hostel building: Rs. 25,000/= or/ and for classroom building: Rs. 100,000/=

Miscellaneous Contribution:

(j) books to the children,

(k) books and other facilities (e.g., cassettes, CDs, cassette-player, CD-players, etc) in the library.
Those interested in making any kind of donation may please write to school@biharanjuman.org, with subject line "Donation for Madarsa RAHBAR-e-Banat" - your commitment will not be disclosed without your permission.
Casting of 2nd Storey Roof (1st floor's roof) on 23rd March 2011
Casting of 1st storey roof (Ground floor's roof) on 5th August 2010
Plinth Construction Completed, 15th June 2010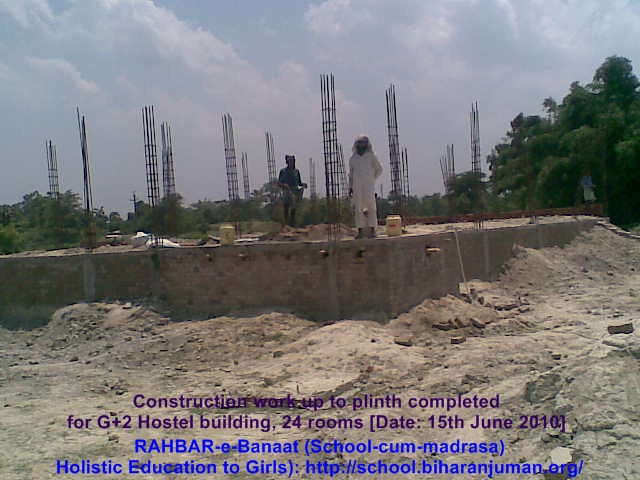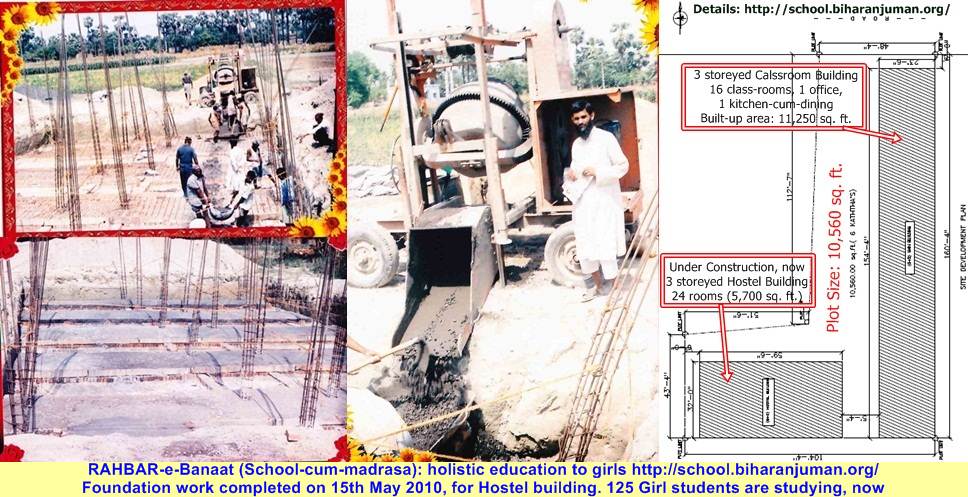 Vision: Educational empowerment of Muslim women, by making holistic education & guidance accessible to them.
Mission: Comprehensive Holistic Education [Islamic + Contemporary] & Training to every female of Bihar and Jharkhand, by establishing one girl's school in every district of the two states.
Apply Now

: Lady teachers are immediately required, for all subjects (CBSE + Islamic curriculum). Send CVs of deserving female teachers to

school@biharanjuman.org
; for more details of these vacancies,
click here.
Rahimabad is the birth place of Maulana (Shaykh) 'Abdul 'Aziz Rahimabadi, RA, who was a great 'alim and muhaddith, and a student of Shaykh Nadhir Husain of Delhi (http://www.islamicawakening.com/viewarticle.php?articleID=1300). He was the founder of Mdarsa Darul Uloom Ahmadiya Salafiya, Laheriasarai, Darbhanga. He is among the earliest ulemas to have written extensively on the need for reforms in madarsa education (refer to the book "Pakistan 2000" By Charles H. Kennedy, Craig Baxter, American Institute of Pakistan Studies).
Your suggestions can make this project more beneficial for the target students, and for the community, as a whole. Please take 2 minutes to submit your suggestions, by clicking here, or writing to school@biharanjuman.org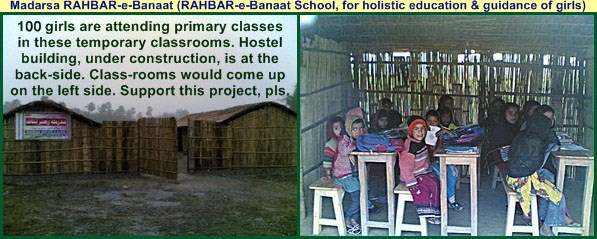 Introduction:
Why girls only? There is no girls-only educational centre for Muslim girls. Existing schools and madarsas provide education to boys and girls, both. Unfortunately, both sit in the same classroom (even in higher classes) - yes, even madarsas do the same. Girls must be educated, as they form the core of our society's culture. Mother's lap is not just the first school for each one of us, it also leaves its permanent impression on our personality. Illiteracy among women may be the main reason for the degradation of our culture and our value system. We send our daughters and sisters to another family, as an ambassador of our culture. It's like exporting our culture to another household. What should we export? The values do not get inculcated in a day, and we are responsible for the habits of our girls. If our upbringing and education can make them true ambassadors of Islam, jannah will become easily accessible to us. On the other hand, if our upbringing and education take them in the opposite direction, we would be the source of destruction for our society. The choice is ours! That's why they say, "teach a boy and you teach only a man; teach a girl and you teach an entire family".
What kind of education? Deeni Ta'aleem is inclusive and comprehensive, as every education and training is deeni, and there is no other type of education in Islam. The types we know may be sub-sections, but placing them parallel to deeni ta'aleem is a fallacy. So, asri (contemporary) ta'aleem (education) may be considered as a subdivision within the spectrum of deeni (Islamic) educational system. So, this madarsa will provide holistic education by including in its curriculum science along with Islam, Arabic along with English, Urdu and Hindi. Vocational training centre will, insha-Allah, be established soon to enhance the skills of those whose parents wish their children to acquire these. Ultimate goal is to take this institution to the highest levels (college, jaamiya, university, and so on) where research facilities can also be provided, insha-Allah. As of now, we just intend to make a humble beginning with primary education - the first baby step.
Why another educational institution? This is not just going to be another institution, but as explained above, a girl's education centre - one of its kind in the area. Boys and girls of the area go to no educational institution at all, and if they go, they go to government schools or madarsas, which do not care for quality education. Pulling away poor children from their homes is, in fact, pulling away an earning hand. If quality education is not provided, the whole family is being cheated along with the child's future being ruined. There is need to impart quality education which really serves the purpose of educational empowerment. There is even greater need to impart education to the girls, that's why this institution has been conceived.
Maulana Waris Mazhari (editor of Urdu monthly magazine 'Tarjuman Dar ul-Uloom', the official organ of the Deoband Madrasa's Graduates' Association):
Personally, I believe that Muslim women should receive an equal education as Muslim boys. There is nothing in Islam that prohibits this. Why shouldn't we have Muslim women engineers, doctors, journalists, lawyers and social workers? We need Muslim women in all these sorts of occupations. They need to have a presence in all necessary social sectors. A woman can be a good Muslim, a good wife, a good mother, and a good professional at the same time. Such a woman can provide a good role model for others to emulate. To deny Muslim women this possibility, ironically in the name of Islam, would mean only to further reinforce ultra-secularism, in the sense of hostility to, or absence of, religion in the public sphere.
(1) Land acquisition: 6 katha land has already been acquired, and Rs. 20,000 arranged for land-development and temporary class-rooms (thatched roof on bamboo supports ... 4 classrooms for 20 stduents each plus an office room built, as in the picture, above).
(2) Appointment of Teachers: two teachers (one for Islamic studies, and another for contemporary education) are already appointed, and sposnorship of their salaries has been arranged.
(3) Head of the institution: Maulana Atiqur Rahman Sb, who has Alim and Fazil degrees from Madarasa Darus Salam, Umarabad, Distt: Vellore (Tamil Nadu) [Ph: +91-4171–258322, Fax : +91-4171–255451] , served as head-mudarris of Madrasa Aziziya Salafia, Rahimabad; belongs to the same village.
(4) Approval from Islamic istitutions and authorities : Maulana Anisur Rahman Qasmi Sb, Nazim of Imarat Sharia and Chairman, Bihar State Haj Committee , and Maulana Sanaul Hoda Qasmi Sb, Naib Nazim of Imarat Sharia, Patna visited the site and approved it. Approvals and recommendations from other institutions and idaraas are being sought.
(5) Classes for primary sections started on 1st December 2009. More classes will be added as more funds become available. Total 60 students got enrolled in the first month ... enrollments have been stopped after that, considering lack of taching staff.
(6) Foundation stone laid for construction of permament hostel buidling, on 3rd Jan 2010, by Janab Md Ali Ashraf Fatmi Sb, ex-minister of state for HRD, govt of India.
a. Maulana Atiqur Rahman Sb, Fazil from Madarsa Darus Salam, Umarabad (Tamil Nadu), native of from Rahimanad
b. Janab Nizam Ahmad Sb, resident of village Bherokhra, and a member of the Samastipur District Board. He is also a member of the management committee in Madarsa Islamia, Shahpur Baghauni.
c. Janab Mohd Shazif Ahmad Sb, resident of village Bherokhra, retired (1984) deputy director of Agriculture (statistics), government of Bihar.
d. one more person from Rahimabad village .... to be selected ... pls suggest names
e. two members to be selected from Baghauni village ... pls suggest names
f. one member to be selected from Rajwa village ... pls suggest names
g. One member to be selected from Tajpur ... pls suggest names
Financial requirements (estimate) for the madarsa:
| | | | |
| --- | --- | --- | --- |
| | Phase-1 (Ground Floor), Year 2011 | Phase-2 (1st Floor), Year 2013 | Phase-3 (2nd Floor), Year 2015 |
| Temporary rooms and temp. boundary wall | Rs. 50,000 | ------ | ------ |
| Hostel building, G+2 (1,920 ft2) | Rs. 1,000,000 | Rs. 800,000 | Rs. 800,000 |
| Combined building (Classroom + Office + Kitchen + Dining hall, etc. >> 3,696 ft2) | Rs. 2,000,000 | Rs. 1,600,000 | Rs. 1,600,000 |
| Laboratory building and equipment | | Rs. 1,000,000 | Rs. 2,000,000 |
| Common Room + Library (separate building) | --------- | Rs. 600,000 | Rs. 500,000 |
| Total cost of construction [Rs. 11.95 million or 1 crore 19.5 lakhs] | Rs. 3,050,000 (Rs. 30.5 lakhs) | Rs. 4,000,000 (Rs. 40 lakhs) | Rs. 4,900,000 (Rs. 49 lakhs) |
Operational Expenses (estimate) for the madarsa:
Phase-1

Phase-2

Phase-3

a. Salary (teachers) @ Rs. 5, 000 per month

Rs. 30,000

Rs. 60,000

Rs. 90,000

b. Salary of Admin staff @ Rs. 4,000 monthly

Rs. 8,000

Rs. 16,000

Rs. 24,000

c. Food for resident students, teachers, etc.

Rs. 30,000

Rs. 75,000

Rs. 150,000

d. Maintenance [cleaning, washing, etc]

Rs. 4,000

Rs. 8,000

Rs. 12,000

e. Medical expenses

Rs. 4,000

Rs. 10,000

Rs. 20,000

f. Total monthly Expenses

Rs. 72,000

Rs. 169,000

Rs. 296,000

Total annual Expenses [12 x (f) + Rs. 600 per student (for new clothes and toiletries, etc.)]

Rs. 864,000 + Rs. 36,000

= Rs. 900,000

Rs. 2,028,000 + Rs. 90,000

= Rs. 2,118,000

Rs. 3,552,000 + Rs. 180,000

= Rs. 3,732,000
Architectural Drawings (download pdf files):
Demography of the area:
Samastipur district consists of 16.53% Muslims, as per census figures of government of India (2001), i.e., it has a Muslim population of 13,722,048 (13.72 million). The female literacy in the district (for all religious groups) was recorded as 32.69%, compared with 52.17% of Patna. Tajpur block has the highest concentration of Muslim population, in the Samastipur district - as per government reports, it is more than 20%, and this was the reason for choosing Tajpur as the only centre (in Samastipur) for Kasturba Gandhi Balika Vidyalaya (read the guidelines for this school at http://www.education.nic.in/kgbv_guidelines.asp). This madarsa is situated about 80 km away from the state capital, Patna, by road.
Tuition Fees: No fees to be charged to students (absolutely free education)
The tuition is absolutely free to students. They are to be drawn from the families that are not in a position to pay for their education – most of them would either not be going to any educational institution or may be going to government schools or madarsas, which do not care for quality education. Pulling away poor children from their homes is, in fact, pulling away an earning hand. If quality education is not provided, the whole family is being cheated along with the child's future being ruined. If we decide to make the project open for fees-based tuition, there is a chance to divert from the main focus on motivating the deprived sections to continue their studies and turn towards generating income from the project.

Operational Mechanism:
1. No collection of zakah money by teachers: Teachers will not be asked to runaround for donations, so there will be no sharing by them from the amounts contributed by donors - the madarsa culture of giving away 50% to the teacher-collector would not be followed. Teachers will be paid a higher salary than those in other madarsa - this will compensate them for the loss of income from zakah collections (50% of all collections). Teachers (mudarriseen) would just focus on teaching. This is also important, because we would have only female teachers, in the long run.
2. Primary classes started in December 2009, with 2 teachers and 60 students.
3. Middle school and Secondary Classes (including Wastania and Fauqania): Classes will be added, every year, and new teachers would be appointed, giving preference to female teachers. At the end of five years, i.e., by 2014, all teachers will be females only.
4. Residential facility will start by September 2010, with accommodation for 50 students, and every year residential facility for 50 more students will be added. Residential facility will be allotted mostly to orphan girls (preference will be given to them). Destitute girls will get the next preference.
5. Warden (Matron): A warden for the hostel will stay within the madarsa campus. She will be a mature, educated practicing Muslim lady, from good cultural background, who can exercise the required control.
6. Prayer facilities will be provided from the beginning, and training will be provided to students on all aspects of practicing Islam in daily life.
Monitoring mechanism:
Bihar Anjuman has chapters in various places, and a three-layer monitoring will happen.
First layer of monitoring: Local chapters would monitor the project, as first layer.
Second layer of monitoring: Patna, Delhi and Aligarh chapters would monitor the project, as second layer.
Third layer of monitoring: Mentors from online group visiting their native places will visit the centres, check the account-books, academic performance, and other arrangements, etc, apart from teaching the students on a short-term basis, and guiding students, teachers as well as the organizing teams.
What would be the scale of success?
Continuous improvement in academic performance will be targeted, to be assessed through weekly, monthly tests, and through annual exams, in the school. The results of their annual exam will be considered as the scale of success (for continuous improvement)..
Student's scale of success: Incremental improvement (percent increase w.r.t. previous exam) in scores at the half-yearly and annual exams.
Centre's scale of success: Incremental improvement (percent increase w.r.t. previous exam) in average scores of all students at the school, in the half-yearly and annual exams..
Account-keeping:
Account will be handled by the accountant of the school/ madarsa (employed part-time or full-time). Initially, the responsibility may be handed over to some volunteer from the local community or to one of the teachers appointed for the centre.
Audit:
Account-books would be made available, for audit, to any member of Bihar Anjuman, or partner organizations, whenever they approach the centre, with such a request. Visiting members would be requested to audit the entire operations of these centres, including the academic processes.
Counselling:
Regular counseling programs would be conducted by engaging respectable figures from the local community. Visiting members of online forums would be requested to inform about their visit of the region, so that their services may be availed of. Services of some reputed counsellers may be availed of, at least once-a-year, on a payment basis or otherwise.
Shikwa-e-zulmat-e-shab se to kahin behtar tha;
Apne hissey ki koi shamm'a jalaate jaatey. [Ahmad Faraz]
| | |
| --- | --- |
| Better light a candle than curse the darkness | |