[Reach Amazing Heights with Bihar Anjuman's Resources]
Governing Body of RAHBAR
President of RAHBAR
Dr. M. Mubarak Hussain, Reader, Dept. of Physiology, Jawaharlal Nehru Medical College and Hospital, Aligarh Muslim University: Nominated by AMU chapter(9897338554), belongs to Godda,Jharkhand. Represents the state of Uttar Pradesh.
General Secretary of RAHBAR
Jawed Ahmad: Nominated by Delhi chapter (9811040351). He has taught previously in Jamia Millia Islamia University. He is currently a faculty in Jamia Hamdard University's Computer Science department. Belongs to Khagaul in Patna district, and has been associated actively with Delhi chapter since its inception. He served as Secretary of Delhi chapter. Represents the state of Delhi.
Treasurer & Funds Manager of RAHBAR
Dr. Mohammad Imtiyaz Hassan: Nominated by Delhi chapter. Since the inception of Delhi chapter, he has played an active role, served as Finance Secretary of Delhi chapter. He belongs to Nazra village of Madhubani district in Bihar. He is working as Young Scientist in CIRBSc, Jamia Millia Islamia. He can be reached @ 9868311151. Fax: +91-11-26983409. Represents the state of Jharkhand.
Founder Members of RAHBAR'S Governing Body
Document from Registrar, Govt. of Delhi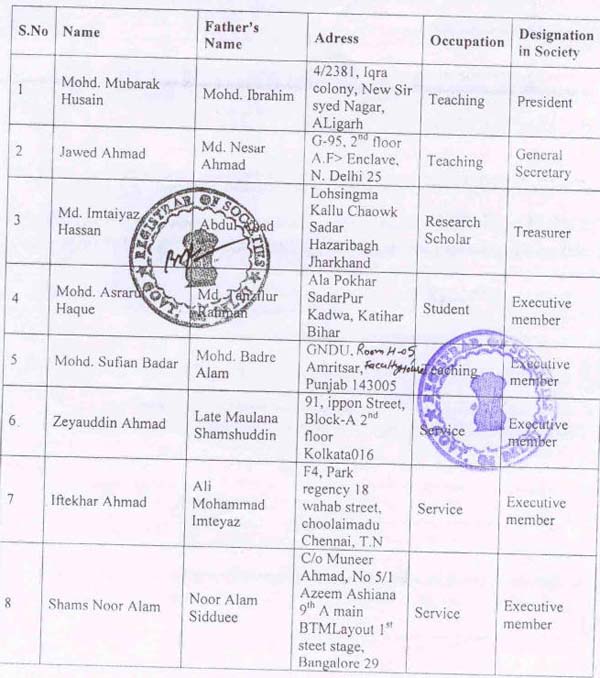 Vacant Positions in RAHBAR'S Governing Body
1. Nominee of Ranchi chapter … to be included in 2008-09, after the chapter stabilises
2. Nominee of Patna chapter … to be included in 2008-09, after the chapter stabilizes.
A total of 7 (seven) vacancies exist in the governing body. These will be filled by the nominees from various chapters that come into existence and stabilise by forming a team that proves itself through productive work.
Foreign Currency Regulation Act || Registration laws for NGOs in India
Tax benefits reaped by donating to NGOs || NGO & Funding of its Operations
National Foundation for Communal Harmony|| Govt Schemes for Welfare of Minorities
Grants (ministry of social justice) to NGOs ||Right to Information Act
RAHBAR can establish local chapters in any location within India. Every chapter can have its own bank account (joint account in the name of minimum 2 people authorized by the governing body of RAHBAR) where funds can be remitted by anybody from anywhere.
Sponsoring Projects is important, and we have to work hard to make them successful. We must remain self-motivated. Expecting ACTION at our end is not strange - that's the main purpose of this Anjuman. So, please wake up, and act!! (a) Join the local chapters. Motivate people to form local chapters, (b) Identify the genuine people from among those who come forward, (c) Motivate them to have an organizational structure - please suggest whether we formulate it for them or they should do it as per their own understanding and requirements (AN APPROVAL WOULD BE NEEDED), (d) Motivate them to have Joint accts as soon as possible, (e) identify some genuine people among each chapter for incorporation into various committees that will be formed to implement projects approved by RAHBAR.
Bhai log, let 2008 A.D. and 1429 Hijri be a year of DOING.
So, get going. We are now accountable to MORE THAN 4,750 members (on 31st Jan 2008, as compared with 1,382 at the end of 2006) of Bihar Anjuman (far ahead of every other group from Bihari and Jharkhand and also to over 1.2 billion muslims worldwide. Please never forget our accountability towards Allah Tabarak Wa Ta'ala and our beloved prophet(PBUH).

Please keep visiting this page for latest updates.