BASIL* - Bihar Anjuman's Sources of Infinite Learning

An Islamic library to serve the Muslim masses and help achieve educational empowerment for the community.

Bihar Anjuman is the largest online group from Bihar or Jharkhand. Check it out at: http://dir.groups.yahoo.com/dir/Regional/Countries/India/Bihar

Location: New Patliputra Colony Masjid, Patna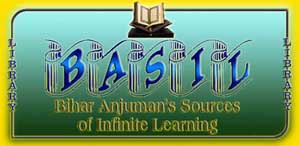 Earn Sadaqa-e-Jariya: Please send books, journals, CDs, DVDs, audio or video cassettes to Janab Enam Khan Sahab of Patna Chapter [Contact Number: 9334082259].
Address: 30 – Haroon Nagar, Sector 2, Patna – 801505
Tel. No. 2250381
Soomi lodge, Near Diamond Lodge, Room No.202, Subzi bagh, Patna – 800004
Materials for the library (and for free distribution in Bihar) can be handed over to representative of Bihar Anjuman at the above address.
| | |
| --- | --- |
| Please arrange to deliver books to Imam Sahab or Khadim Sahab of the Masjid, if you face any difficulties in handing over to Patna representative. | |
Delhi Contact
Materials for the library (and for free distribution in Bihar) can be handed over to any of the following representatives of Bihar Anjuman:
Jawed Ahmad (9811040351), Imtiyaz Hassan (9868311151)
For handing over library materials in other Places, please contact Group Managers and Chapter Representatives
*Meaning of BASIL: any plant of the genus Ocimum, tender herbs or small shrubs of the family Labiatae (mint family), mostly of Old World warm regions and cultivated for the aromatic leaves. The basil of Keats's "Isabella" (and of Boccaccio's story) is the common or sweet basil (O. basilicum), once considered medicinal. This is the species usually used for seasoning; it is grown commercially chiefly in the Mediterranean area. There are also the holy basil, venerated in India (Tulsi); the bush basil; and related plants sometimes called basil. Basil is classified in the division Magnoliophyta, class Magnoliopsida, order Lamiales, family Labiatae.
| | |
| --- | --- |
| Tulsi (one form of Basil) | Basil (Ocimum basilicum) |