RCC Patna student gets 6th

Rank

in all India polytechnic entrance exam; RAHBAR Coaching centres were able to transform

27 zeroes of yesterday into heroes of today, this year

,

thus adding to the 39 of previous three years (6 in 2010, 16 in 2011, and 18 in 2012), taking the total to 66, now:
27 students of RAHBAR Coaching Centres make history in 2013, with Khadeeja Mastoor of RCC Patna getting 7th Rank in MANUU diploma engineering entrance exam.
RCC Chapra, a flop in year 2012, took RCC movement to new heights by getting 17th Rank in the same all India exam.
Four (4) of the top 50 ranks were bagged by RCC

s managed by Bihar Anjuman, three of these by

RCC Patna

alone, thanks to the exceptional efforts of Janab Shoaib Khan Sb, IPS, who has devoted his precious time to the

RCC Patna and considered the children studying there as his own.
Subhanallah!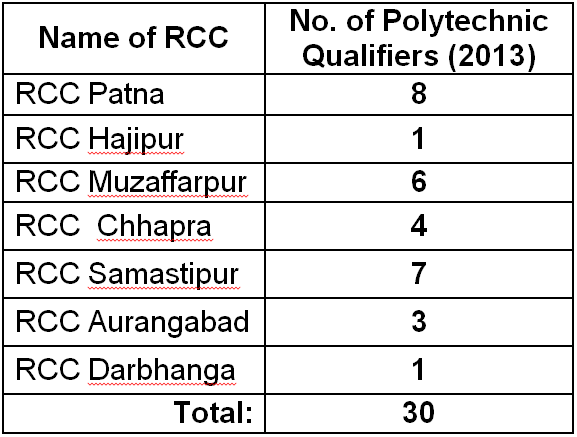 Two under-priviledged families can lead a respectable life, now, thanks to 2010 batch MANUU Students of RCC background getting decent jobs in 2013:
"Two MANUU 2010 students of Bihar Anjuman's RAHBAR Coaching Centres (RCC) background, Sajid s/o a Labour and Danish s/o a Road side cycle repairing mechanic, passed Diploma Engineering (CS) and both of them got a job of Rs. 7,000/- each per month in Patna. You cannot imagine the happiness of their family members which IBF Trust from Orissa brought to them, by sponsoring their expenses throughout their three year ITI studies. They saw Rs.7,000/= first time in their house. One can imagine the happiness of their respective families. I wish your presence would be wonderful sight." (Enam Khan, Convenor, Patna Chapter)

Janab Enam Khan Sb, the convenor of Bihar Anjuman's Patna chapter shared this good news with the scholarship provider (IBF Trust), as follows:
"We members of Bihar Anjuman are grateful to you and IBF for sponsoring all the poor students of Bihar who got admission in MANUU from 2010 to 2012. Two students of 2010 who was sponsored by IBF i.e Sajid s/o a labor and Danish s/o a road side cycle repairing mechanic, passed diploma engineering (CS) and both of them got a job of Rs.7000/ per month in Patna. You cannot imagine the happiness of their family members which you and your IBF brought to them. They saw Rs.7,000/ first time in their house. One can imagine the happiness of entire family. I wish your presence would be wonderful sight. Only Allah will reward you for your contribution.
2011 and 2012 batch students are getting scholarship from IBF trust, regularly. I hope they will also complete their studies and start earning for their families.
In 2013, Bihar Anjuman has arranged scholarship for all thr 30 students who got admitted into the polytechnics, grabbing high ranks.

Bihar Anjuman's support fulfills the dream of the Son of a Peon in JIH office, helps him to complete his B.Arch. degree from Delhi
Brother Tahseen Ahmad reported on Friday, Aug 2nd, 2013 this good news, from Dammam, where the chapter was geared up by him to find a suitable placement for this beneficiary of Bihar Anjuman's scholarship program which started some eight years back by the name of BANEE (the founder).

The good news is that this student completed his B.Arch. degree from the prestigious Jamia Millia Islamia University. Waseem Akram, son of a peon in Jamat e Islami Hind headquarters, comes from a very humble background. With a meagre income, his father Jaseemuddin managed to get him well educated in an expensive city like Delhi, with support coming through Bihar Anjuman, with the will of Allah Subhanahu Wa Ta'ala.
His family needs not worry about the expenses on education of his younger siblings, with Waseem determined to take care of them.
Syed Tahseen Ahmad, sharing this good news with the chapter's founder convenor, Syed
Rashique
Ahmad, was delighted with the thought that a family's financial woes have finally been laid to rest, and they can now plan for happier moments for their future life. Subhanllah!
Syed Tahseen Ahmad and Syed Rashique Ahmad thanked all the members of Bihar Anjuman's Dammm-Khobar chapter, and all the well-wishers, who were always coming forward to support any noble caused pursued by the chapter.


RCC Samastipur produces 17 first divisioners to occupy the Top-achiever position:
Top 3 Matric Scores come from RCC Hazaribagh, backed by highest Maths scores:
A rare distinction has been achieved by
RCC Hazaribagh
; they took away all the top three spots in terms of scores in the matric exam obtained by students of all RCCs. Shama Parween of
RCC Hazaribagh
gets 98% scores in Maths, the highest among all RCC students. Below is a list of top 25 scorers. Among the top five, next two scorers come from RCC Samastipur which has produced the maximum number of first divisioners (17) thus achieving 68% first divisions with 100% Pass percentage. In the top twenty-five, maximum nine (9) number of first divisions come from RCC Samastipur, replacing last year's top achiever, Darbhanga (with 4 students in top 25, they are in the 2nd position, this year), to occupy the top position.