BAJEE Training Centre @ Bherokhra village, Block: Tajpur, District: Samastipur
BAJEE Training Centre, Samastipur
August 2009
>> All the students of Quran Classes received Quran with Urdu translation, as free gift, funded by Mrs. Gulnaz Bano for BAJEE.
Watch a short video clip of some students receiving the Quran, and being explained on how to use it, for maximum benefits.
>> 20 best Graduating Trainees of the centre received Sewing machines worth Rs. 2,400 each. All the students who were trained during the last one year went through one-week long tough competition, sewing various types of clothes ranging from those of the kids to the adults.
July 2008
As reported in the
Yahoogroup
: To expand the activities (started in August 2007) of this BAJEE centre that could extend the benefits to the women folk of this village, Mrs. Gulnaz Bano arranged two tailoring machines – one hand-machine and one pedestal machine. The tailoring class was inaugurated formally on the 11th July 208. One more teacher was appointed by her and the first teacher (who also can provide training in tailoring-related skills) was assigned additional responsibilities of imparting tailoring-related skills, as per guidelines provided by Mrs. Gulnaz Bano (she is herself trained in tailoring, knitting, embroidery, cloth painting and related skills). First teacher's salary was raised to Rs. 2,500 per month (Rs. 1,500 for Islamic education + Rs. 1,000 for tailoring-related teaching) and the new teacher's salary was fixed at Rs. 1,000 per month (tailoring-related skills). All the funds have been arranged by Mrs. Gulnaz Bano alone. Bihar Anjuman has
not
contributed any funds to this centre, only provided guidance.
August 2007
As reported in the
Yahoogroup
: Inspired by Dr. Moiz Shams Sb of Makkah Mokarrama, BAJEE training centre was launched to make the women of this village literate. This centre is sponsored by Mrs. Gulnaz Bano who will pay for a teacher's salary @ Rs. 1,500 per month (a lady teacher was selected by her in cooperation with her father-in-law). Classes on Quran learning, and Urdu, started on 5th August 2007 with Mrs. Gulnaz Bano's lecture to around 120 women and girls, in an ijtema, called to highlight the importance of imparting such education. The response was overwhelming and far above our expectations. The classes continued despite continuous heavy rains in the area, and around 20 to 25 girls/ ladies have been reported to be attending during these rainy days. Books and audio cassettes were provided by Mrs. Gulnaz and her women associates while we provided audio CDs of Quranic recitations, tarjuma and tafseers downloaded from biharanjuman's website.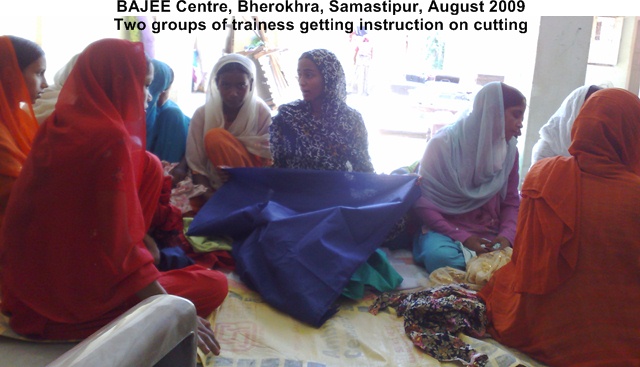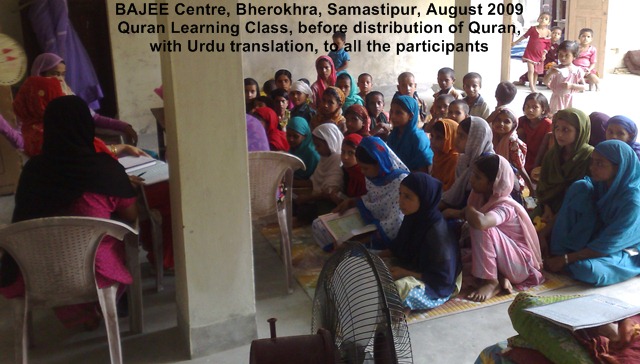 Shikwa-e-zulmat-e-shab se to kahin behtar tha;
Apne hissey ki koi shamm'a jalaate jaatey. [Ahmad Faraz]
| | |
| --- | --- |
| Better light a candle than curse the darkness | |