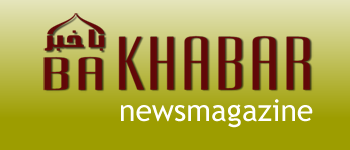 Would you like to share your thoughts? This would not be tough for an intellectual like you.
Submit your article today : bakhabar@biharanjuman.org
August 2015, Volume-8, Issue-8: Last Date to receive articles is 20th July 2015
Send your articles to bakhabar@biharanjuman.org
After all, we are not members of a DEAD nation, and of course, we are definitely a vibrant nation, alive-and-kicking. If you think you carry feelings that must be expressed, news or views that must be shared, write down and send on. Now!
Guidelines for article
Length of Articles: Restrict your write-up to maximum one full page on A-4 size paper in a MS Word file. Exceptionally valuable articles could cover the length of more than one FULL Page, as well. (your article could be a series, as part-1, part-2 etc. .... mark them as such).
Font: Times New Roman, size=12.
How to send the articles: Send the articles as MS Word file, attached to your email, to bakhabar@biharanjuman.org.
Editorial Board Rights: The editorial board has full right to (a) reject your article without assigning any reasons whatsoever, (b) edit content for spelling mistakes and grammatical errors, (c) to shorten the content, if agreed by the writer, in order to accommodate within the framework of the 12-page NewsMagazine.

Intellectual Property Rights: Please note that any article submitted to us becomes a property of Bihar Anjuman and can be published online, on any of websites owned by Bihar Anjuman, and can be distributed to the target readers in any form. The articles will never be given away, by us, to any other organization without prior consent of its author.

Suggestions: Respected members, your suggestions on all aspects of the newsletter are always welcome. In fact, it's your suggestions and criticisms that keeps us afloat. It's your support that keeps us moving forward despite the currents and under-currents being against us all the time. Looking forward to your feedback, suggestions and criticisms,
Choose any of the following areas to write:
Articles with visual aids would get preference over text-text-text-text-text-text types!!
(A) Pure Islam (Quran, Hadeeth, Fiqh, Dawa):
Send your articles to "BaKhabar" bakhabar@biharanjuman.org
(B) Islamic History, Inter-faith dialogue, Muslim Education (including Islamic Finance):
Send your articles to "BaKhabar" bakhabar@biharanjuman.org
(C) Career-related articles:
Send your articles to "BaKhabar" bakhabar@biharanjuman.org
(D) Motivational:
Send your articles to "BaKhabar" bakhabar@biharanjuman.org
(E) Family and Culture-related:
Send your articles to "BaKhabar" bakhabar@biharanjuman.org
(F) Health related:
Send your articles to "BaKhabar" bakhabar@biharanjuman.org
(G) Language (Urdu, Arabic, Persian):
Send your articles to "BaKhabar" bakhabar@biharanjuman.org
(H) General Articles that have value for the community:
Send your articles to "BaKhabar" bakhabar@biharanjuman.org
(I) News (current affairs) that make sense to Muslims:
Send your articles to "BaKhabar" bakhabar@biharanjuman.org
(J) Appreciable Work by other NGOs and societies:
Send your articles to "BaKhabar" bakhabar@biharanjuman.org