Ba-Khabar: Editorial Team
Verily never will Allah change the condition of a people until they change it themselves [Quran, 13:11] ... God helps those who help themselves!!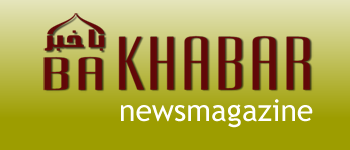 BaKhabar is your platform to express yourself, with quotes, articles, poems, shayaree, ideas, news and views, or comments regarding any article of BaKhabar. Readers are requested to send anything they wish to be published. We encourage and appreciate original contributions and ideas of our readers.
Publisher: Bihar Anjuman
Chief Editor: Prof. Mrs. Asma Salim Khan, from Solapur, Maharashtra, Email: bakhabarforyou@gmail.com
Editors: Seraj Akram (Riyadh), Ms. Farhat Shakeel (UAE), Ms. Tanveer Fatma (Pune), Mohammad Allam (Aligarh), and Gheyas S. Mahfoz Hashmi (Jeddah), Syed Fasi Haider (Jubail)

Would you like to be a part of this editorial team? If you have some editing experience, are a keen writer, and have the passion to lead, write to the following email address:
E-mail: bakhabar@biharanjuman.org
Call for articles: CLICK HERE
Would you like to be part of Ba-khabar? This would not be tough for an intellectual like you.
Submit your article today : bakhabar@biharanjuman.org
Last Date to receive articles is 20th day of the month, for next month's issue
Articles received after last date will be considered for the next Issue. Material for publication submitted by the 20th of every month will be considered for inclusion in the upcoming issue. Late submissions will be considered, on priority basis, for the future issues.

Please email your willingness to assume any of the responsibilities, to send materials for publication in the magazine, or your suggestions, etc. to bakhabar@biharanjuman.org