Quick Update on Bihar Anjuman's Activities during December 2010



New Project announced:

Government approved RAHBAR technical institutes (ITI) are set to start in 2011

. Bihar Anjuman's moderators have formalized this new project's guidelines, on the pattern of the RAHBAR Coaching projects. The ITIs, to be established in every district of Bihar and Jharkhand – one in each district (and just one until all districts get covered) – will be based on a tripartite agreement between RAHBAR (owner of project; will raise funds for equipping the laboratories and workshops, monitor its functioning), Imarat Sharia (consultant for the project; will manage the institute's entire operations), and Local Infrastructure Providers (LIP: will provide minimum infrastructure required for the RAHBAR ITI, free of cost).



The trades and intake capacity depend on availabile infrastructure.

First ITI, in Madrasa Islamia, Shahpur Baghauni (district Samastipur)

, will have the trades of Electrician (84 seats), Plumbing (42 seats) and Draughtsman (Civil: 42 seats).
Financial Requirements to be met by Bihar Anjuman (funds to be raised for each ITI): Rs. 500,000 (Rs. 5 lakhs) to Rs. 600,000 (Rs. 6 lakhs) to equip the workshops for the proposed trades. An inspection will be done by govt inspectors, between 1st March and 20th May, of ITIs for which an NOC has been issued. During this period, the workshops and class-rooms, etc. must be fully equipped in order to get the final approval.
All members of Bihar Anjuman are urged to initiate efforts to establish an ITI in their respective districts, after downloading the guidelines from http://iti.biharanjuman.org/ and discussing any issues by sending emails to ITI@biharanjuman.org




Delhi Chapter of Bihar Anjuman comes alive:

Delhi-Chapter's meeting held on 5th December (the day after receiving the TCN Awards) was attended by more than 40 brothers including brothers Shakeel Ahmad Sb and Mohd Haroon Sb from UAE, and a core committee (those who volunteered their names) of the chapter was formed, so that Delhi chapter could participate in the good work being done by other chapters and activity centres. As a follow-up, the core committee meeting was held on 12th December 2010 , and was attended by the following members:
(1) Jb. Jawed Ahmed, general secy, RAHBAR
(2) Jb. Mohd Haroon sb. (guest)
(3) Jb. Imtiyaz Hasan sb., Finance secy, RAHBAR
(4) Janab Md. Dastgeer sb.
(5) Janab Rizwan sb.
(6) Janab Md. Akhtar Tauhid sb
(7) Janab Shaukat Ali sb.
(8) Janab Maulana Muntazir sb.
(9) Janab Shahid sb.
(10) Syyed Aftab sb.
Following 4 minor-projects that were proposed in the general meeting of 5th December were discussed, and team leaders for each were selected:
(1) Project-1: Help Madarsa pass out students to either carry their higher studies or getting appropriate jobs according to their qualification & skill.
(2) Project-2: Islamic Quiz competition
(3)Project-3: Career Counseling
Brothers Janab Asif Jalal Sb, IPS, Janab Shamim Ahmad Sb, Wiley India, and Janab Sharjeel Ahmad Sb [Head - QA and Training & Development
Knowledge Services | Kogent Learning Solutions, Inc.] have already listed their names as volunteers for this important project.
(4) Project-4: Counseling for Govt. Jobs
Volunteers are urged to become a part of all the above projects.


Following members expressed interest in opening Rahbar Coaching Centres in their towns/ villages:
(1) Brother Imtyaz Hassan sb. for Hazrat Umar Farooq Academy @ Ranipur, Madhubani
(2) Brother Rizwan sb. for Sanaula, Bhagalpur
(3) Brother Maulana Muntazir sb. for Araria

SABA: Group Marriage for 41 couples arranged in Patna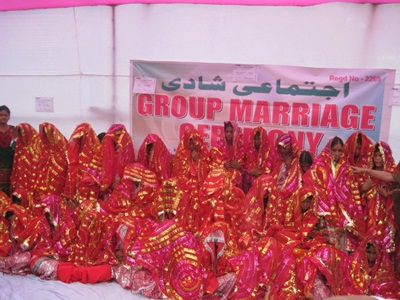 Bihar Anjuman's sponsorship of the group marriage program of Anjuman Raza-e-Mustafa was a grand success with 41 out of 42 registrants tying up the knot of marriage on 28th November 2010 at Kashmiri Kothi, Patna City, Patna. Bhai Syed Rashique Ahmad, convenor of Dammam chapter managed the sponsorship amount of Rs. 28,782/= raised in Dammam/ Khobar chapter.


SABA

:

S

hadi

A

ssistance by

B

ihar

A

njuman is conecting Urdu speaking people interested in entering into marital alliance through its website: www.sabaonline.org/


10th RAHBAR Coaching Centre @ Olhanpur, Chapra (Saran district) arranges 1st awards ceremony [5th December 2010]: Chief Guest on this occasion was Mr. Javed Ahmad Khan, Judicial Magistrate 1st Class, Muzafferpur. The program was started with Tilawat e Quran by local Masjid Imam. Jb Fazle Akam Khan Sb, MBA (AMU) based in UAE, was present on this occasion; he introduced Bihar Anjuman and Rahbar Coaching Project.

Mr. Javed belongs to Chapra itself and was very happy to see Rahbar coaching program in his home district. He advised the guardians of students to provide more time to their wards to study at home.
On this occasion his father Mr. Ali Ahmad Khan sb. was also present, and he gave the example of challenging financial condition of his own family. Awards were distributed by the Chief Guest Mr. Javed Ahmad Khan and his father Janab Ali Ahmad Khan sb. Finally, the vote of Thanks was given by local team leader of centre Janab Abdus Salam Khan sb. For more details, and list of awardees, please visit the centre's website:
http://saran.biharanjuman.org/

This centre is sponsored by
The Aligarh Forum
(Rs. 1 lakhs per annum out of total budget of Rs. 1.32 lakhs)
5th Awards Ceremony, 10th December 2010
@ RAHBAR Coaching Centre, Muzaffarpur:
Chief Guest for the occasion was Mr. R. Thakur, Visiting Professor of AICTE, formerly Professor at MIT, Muzaffarpur. He mentioned that those who strive would not find poverty as an impediment for making a success of their lives. He cited RAHBAR Coaching Centres as an example of removing any poverty-related challenges from the way of those who have a desire to excel. He emphatically stressed upon the fact that God opens up avenues of success for those who work their way towards it.
Prof. Mansoor Alam Sb., Professor, MIT Muzaffarpur, in his inaugural talk introduced the RAHBAR Coaching project and highlighted the importance of education for individuals and the society. He thanked Bihar Anjuman for initiating this noble deed and appealed to all the local people to contribute in this endeavour in whatever ways they could. He introduced the chief guest, Mr. R. Thakur, and expressed his gratitude for finding time out of his busy schedule to participate in this awards ceremony.
Details of awardees in the three categories and more photographs can be seen at the centre's website @ http://muzaffarpur.biharanjuman.org/.

More Updates on December 2010 Activities of Bihar Anjuman: Page-8