Education for Employment and Empowerment





... By Sahim Ahmed, BARC, Mumbai


The non-stop student suicides in Mumbai and a recently released film have opened up a debate on the faults of our education system and role of parents. Let me have my say in this important debate. I am beginning with the basics. In an average life, every individual has to deal with three things: Self, Society and the System. And education should prepare us for the same. The society is like a well-knit fabric of individuals and the system is like a steel structure of individuals, ideas and institutions. A self is a person with three dimensions, namely physical, psychological and moral, and is always bound by three P's: Problems, Priorities and Passions. All these factors vary with the person's age, gender and socio-economic conditions. Any individual or institution has to take these into consideration while setting goals and formulating rules. Negligence of any of these interlinked factors can over stress the individual and lead to chaos.



This is most true for kids and teenaged students because they still are in the learning phase of their lives. Suicidal tendencies to students don't come overnight and actually get developed over the years. Hence, care and preventive measures should be started from their childhood age. People have unnecessarily become crazy about high-fees private schools, tutions and finally about some particular professional courses. I believe that the real classroom education starts at the age of 8 to 10. And till that age, the type and standard of school makes no difference to the kids' overall development, as long as there is reasonably good care and attendance of the kids. The environment of creative freedom should also be there in academic institutions along with the usual conformist syllabus.

The approach towards students of all ages should not be the same. The students may be broadly classified in three age groups: kids of below ten, teens and twenties. Teaching style, timing, course volume, content etc may be kept different for the three groups to suit their health and other requirements. Kids should be given very little conventional education and maximum creative freedom along with enough sleep. Teens should divide their time equally between creative/social/personal activities and academic commitments after eight hours of daily sleep. College students group may do as per circumstances and career requirements but 6 – 8 hours of sleep is a must for them too. Sound sleep is very important for the development of young minds and it helps prevent stress related disorders like hypertension, diabetes, depression, anxiety, personality disorders or suicidal tendencies. In the pursuit of excellence, kids should not be left unattended or pushed to become eccentric.


Classroom activities should not be thought as the only means of education. At least one of the parents should give enough time to their kids. Parents should not have unreasonable expectations of their wards. Rather they should provide moral support after any failure and reassure them that no failure is the end of the world. Destiny can also be blamed for individual failures and the faith should be kept that something different and better must be on the cards. Students' merit should be rewarded not only with financial temptation but also with a sense of intellectual pride and social responsibility. Children should be sheltered from too much exposure to sex, crime and war in computer games, TVs and films. They should be encouraged towards sports and literature to inculcate balanced behavior and a thoughtful attitude. Schools and colleges should give some weightage of marks to sports & extra-curricular activities in the final assessment of students. In schools, one optional subject should carry no marks so that a student can be free of burden/stress from the subject, in which he/she is weak. In these days of nuclear families and busy lifestyles, new subjects like health and family studies should also be introduced to instruct students the usually neglected topics like sex issues, moral values, social conduct and role of relatives and neighbours.

Education is meant to be a tool of empowerment and employment but certainly not that of ending one's life. It should also enlighten people about the social values and awareness of their rights and responsibilities. The ultimate aim of education is to produce healthy individuals with physical, mental, social and economic well being. The number of student suicides in our country for last one decade is indicating that our present educational system needs restructuring. Indian society and system should come back to their wise ways and take a balanced and human approach towards education. I hope that happens sooner rather than later.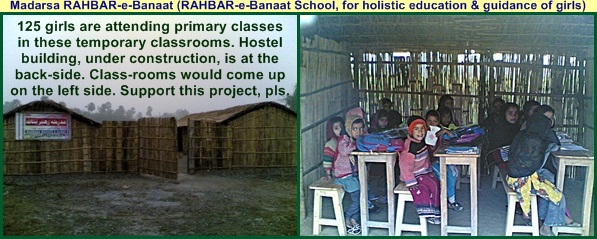 Bihar Anjuman's presentation in Delhi wins many hearts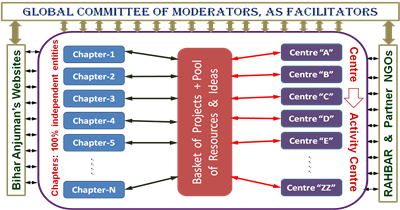 Bihar Anjuman's presentation at the Organization of Year Awards ceremony in Delhi won many hearts. The PowerPoint presentation on the innovative model of Bihar Anjuman kept the audience spell-bound for 20 minutes. The audience consisted of distinguished members of parliament like Mr. Abdul Azeez Pasha (from Andhra Pradesh), Mrs. Naznin Farooqui (from Assam), Mr. Roshan Beg (former minister from Karnataka, now sitting MLA from Shivajinagar) renowned Muslim scholars like Zafarul-Islam Khan (Editor of Milli Gazette), journalists and Indian Muslim intelligentsia. Bihar Anjuman's guests included non-political Delhi-based intellectuals, IAS, IPS, other highly placed government and private officers. Governing body of RAHBAR was represented by its president, Dr. Mubarak Hussain Sb (professor in JNMC, AMU), its secretary, Janab Jawed Ahmad Sb (Asst Professor in Hamdard University), and a member, Janab Shams Noor Alam Sb (IT professional). All of them joined the Bihar Anjuman's representative in receiving the award from Salman Khursheed Sb and K. Rahman Khan Sb, while the conference hall reverberated with the claps of an enthusiastic audience.




The presentation charmed the audience so much that, during the breaks, everyone was looking for Bihar Anjuman's representatives to know more about Bihar Anjuman and its leaders. They appreciated Bihar Anjuman in their public speech as well as during their private conversations. Most of them expressed the feeling that they had never imagined an organization could work without any traditional hierarchy or control mechanism, and still achieve the goals that are amazing and seemingly impossible. The informal sessions during the breaks provided excellent opportunity for the Indian Muslim intelligentsia to interact with Bihar Anjuman and RAHBAR representatives.


A

20-page brochure of Bihar Anjuman

was made available to all the guests at the awards ceremony. The brochure has now been made available to all the members of Bihar Anjuman, with an appeal to contribute Rs. 25/= per piece so that the fund thus raised could go for more charitable deeds. The brochure was designed by brother Siraj Akram (Riyadh), publisher of BaKhabar in just 24 hours and Jawed Ahmad, secy of RAHBAR, managed its printing within the next 24 hours, to make it available to the guests in the TCN awards ceremony. About 150 pieces were distributed in the ceremony out of the 1,000 pieces printed.




Manager appointed for Bihar Anjuman's 1st office in Patna
In a meeting on 24th December, Patna chapter decided to open an office, in Phulwari Sharif area, which would be the 1st office of Bihar Anjuman and could fulfill a long-pending demand of members once opened. A manager has already been appointed, with effect from 2nd January 2011, to manage the affairs of Bihar Anjuman, with special focus on managing the coaching centres of Bihar and Jharkhand. Members have been requested to donate for rent, furniture, cleaning of office, refreshments, and electricity bills, etc. for the office. The manager's salary has been sponsored by a Mumbai-based trading organization which is sponsoring the RAHBAR Coaching Centre, Patna.